Students will take a journey into the wonderful world of fashion!
In these self-directed courses they will learn how to draft patterns, sew the mock-ups but most importantly how to fit the body at their own pace.
It's a perfect way of learning from a distance in the comfort of home.


Le Grand Chic is where the clothes must fit the body, not the body fit the clothes!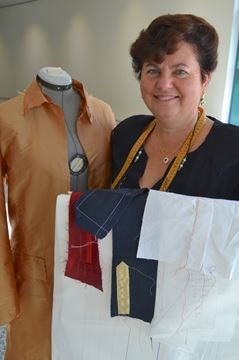 Hi I'm Maria Calautti,
Master tailor, Pattern Maker, Founder of Le Grand Chic Italia In Canada, Alterations specialist.
My passion is to create beautiful clothes the fit the body perfectly! My goal in life is to help others feel great in the clothes they wear. My training is from Italy, the school is an Italian affiliate that is recognized world wide as one of the leading pattern making schools since 1945!
I hope you decide to embark on this wonderful journey with me. Whether for personal use or as a career there is something for everyone who loves to sew and design at Le Grand Chic Italia School of Fashion! Click here for more information
See what others are saying:
"The Le Grand Chic pattern drafting method transformed the way I draft patterns! It's very simple and easy to now get perfect fitting garments! After learning this method and testing it out I felt confident to branch out and now I work with clients in creating patterns and sample garments for their brands and do custom work. I am so happy I decided to take classes with Maria!"
-Amanda L.-
"This course has reignited an enjoyment in making my own clothes that I had when I was younger. It has also given me the confidence to look at a garment and know that I can make it for myself and make it better because it will be a custom fit, especially made for me."
-Elizabeth T-